An estuary is a coastal area where fresh water from rivers and streams mixes with salt water from the ocean. Many bayous and lagoons along coasts are estuaries.

The community of life found in these waters and associated wetlands include mammals, birds, fish, reptiles, shellfish, and plants - all interacting within complex food webs.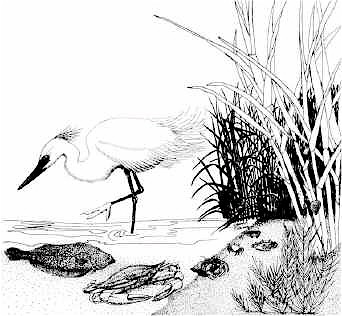 Estuaries have economic, recreational, and aesthetic value. People are attracted to the water and visit estuaries to boat, fish, swim and enjoy their beauty. As a result, the economies of many coastal communities depend on the natural beauty and bounty of their estuaries. In fact, almost 70 percent of the economy in the Coastal Bend can be directly or indirectly attributed to our bays and estuaries in some way.
Estuaries come in all shapes and sizes, each unique to their location and climate. Where there are estuaries, there is unique beauty. When viewing an estuary from the air the dramatic river bends, marsh grasses, and mudflats paint a unique mosaic scenery.
With all the physical forces at work in an estuary (the flow of rivers; the deposition of sediments; the ebb and flow of tides) conditions are constantly changing. Species that evolve in estuaries are therefore adapted to tremendous variability and extreme conditions in their environment.
Long considered to be wastelands, estuaries have had their sediments dredged, marshes and tidal flats filled, water polluted, and shorelines reconstructed to accommodate housing, transportation, commerce, industry, and agricultural needs.
As our population grows and the demands imposed on our natural resources increase, so too does the importance of protecting these resources for their natural and aesthetic values.